Hotel marketing is complex with a whole host of moving parts. If not well managed, advertising costs as percentage of revenue can climb with OTAs in particular claiming at least 15% of revenue. With tight management across all channels, occupancy, average room rates, RevPAR can all be grown while keeping marketing spend down. Below is our high level overview of the hotel marketing ecosystem.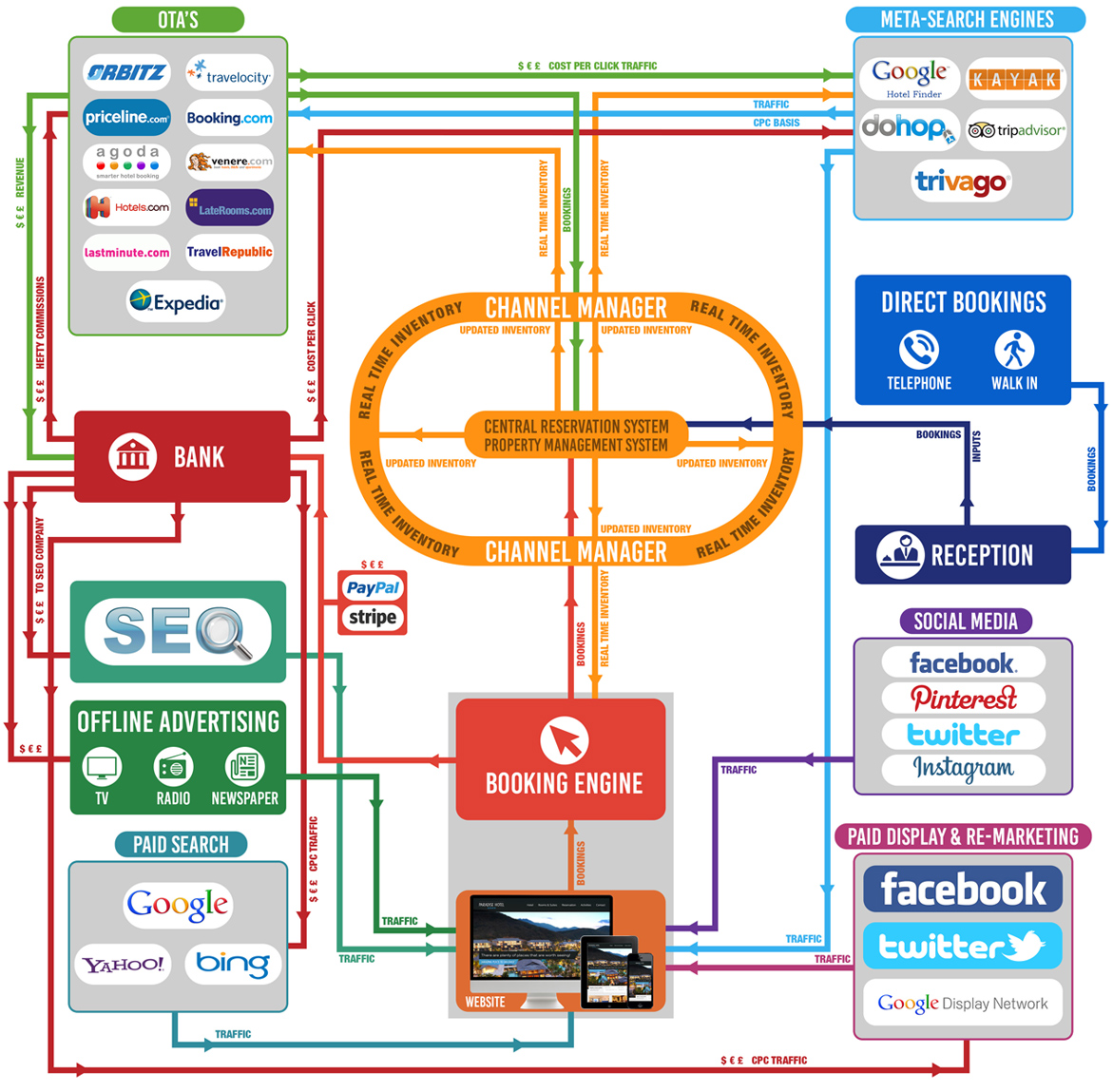 Our Hotel Marketing Service
Reclaiming Branded Paid Search Traffic
Many hotels omit to bid on their brand on Google and Bing. This allows OTAs to buy the branded traffic on a CPC basis and resell to the hotel on a CPA basis, keeping the difference between the two. Simply by bidding on the hotel's branded terms, this branded traffic can be reclaimed and so ROAS can be substantially increased.
Sending Inventory Direct to Meta Search Engines
The same dynamic is at play on Meta Search Engines. OTAs buy traffic from Google Hotels, Trip Advisor etc on CPC basis and again resell the resulting conversions on CPA basis in a form of online marketing arbitrage. By sending inventory directly to meta search engines and driving the bookings directly to the hotel website, substantial savings can be made.
SEO
Ranking organically for important keywords is certainly a challenge given the fierce competition but is possible with sustained effort. Our expert SEO team has a wealth of experience in producing content in the travel space that drives ranks.
Remarketing
Many users will come to your site and so incur a cost to you and not book. Remarketing to these users offers a second chance at winning the conversion and so turning the initial loss making click profitable.
Conversion Rate Optimisation
Users want to quickly learn about your hotel and seamlessly book the dates that they want. Our conversion optimisation staff ensure that your site does just that to maximise the value of the traffic that you are already receiving.