Growing businesses need steady streams of new leads and customers. At Symberity, we have over 10 years experience in online lead generation for clients across pretty much every industry.
Lead Generation Services – Our Approach:
1. Understand Your Business and Target Market:
Our online marketing strategists will take the time to thoroughly understand your business and target market(s).
2. Website Review:
In order to successfully generate leads online, you need a world-class website. Your competitors are competing for the same leads that you are and in order to win, your site has to be strong enough to convince visitors to get in touch not just on desktops but also on mobile and tablet.
3. Channel Analysis:
The online lead generation toolbox is vast. SEO, Paid Search (on Google, Yahoo and Bing), Display Advertising (Facebook, Twitter, LinkedIn, Pinterest, Instagram), remarketing, video advertising and email marketing are all available to us. Our strategists will identify the most appropriate channels for your business and work them to drive your lead generation strategy forward.

Our online marketers have a vast array of options available to them when generating leads online.
4. Constant Monitoring and Refinement:
Monitoring the performance of each channel and keyword to ensure that all are delivering cost effective leads is vital to the success of any lead generation campaign. As more conversions are multi-channel (eg paid search followed by remarketing), correctly attributing each lead to a channel or combination of channels has become more complex than ever.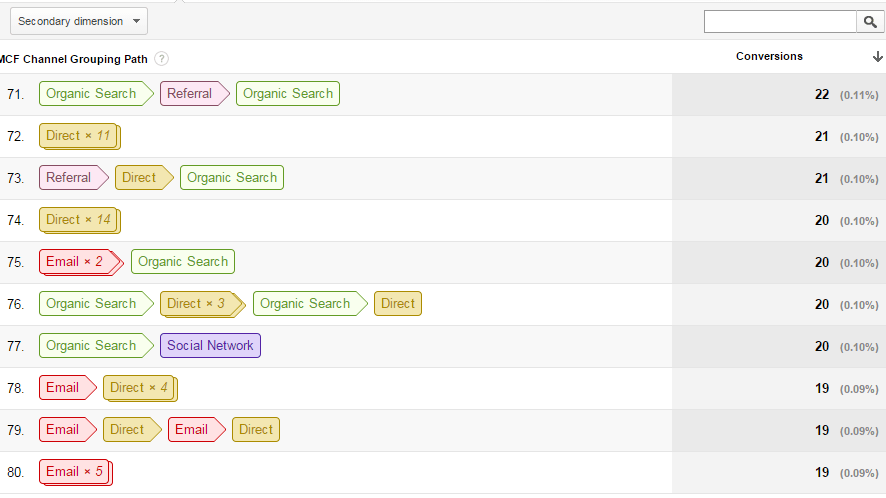 In the above image, we can see how channels are interacting to generate leads.
As a lead generation company, our team is highly skilled and experienced in understanding not just what channels are generating leads but also how channels are interacting. This intelligence ensures that we are always allocating your budget to the channels and keywords that sweat it to its maximum.
Call today to Discuss Lead Generation